Electric Motor Cleaner
Electric Motor Cleaner is a non – flammable, non – conductive safety solvent for degreasing electrical motors, generators and electrical equipments. It effectively removes all deposits of grease, oil, gum, sludge and other stubborn soil without harming electrical wires, contacts or rubber parts.
It is advisable to used in shipping lines or any automotive lines.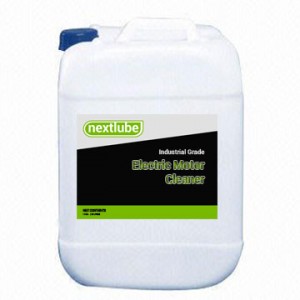 FEATURES :
Electric Motor Cleaner contains special fluorinated solvents and
corrosion inhibitors.
Electric Motor Cleaner is non – flammable, non – conductive and
non – corrosive to metal.
Electric Motor Cleaner does not contain toxic chemicals like
Naptha, Carbon Tetrachloride and other
highly flammable solvents.
Electric Motor Cleaner can with stand a dielectric break down
voltage exceeding 20,000 volts
according to ASTM D877 standard test.
Electric Motor Cleaner has longer evaporation rate allowing the
solvent to penetrate the deepest crevices
of electrical motors and other equipment.
HOW TO USE :
Electric Motor Cleaner can be applied by , brushing, wiping or spraying but avoid fine mist type spray.
Electric Motor Cleaner is recommended for use on all parts of electrical equipments. It will not harm surfaces, rubber or plastic insulation.
AVAILABLE PACKAGING;
1 can – 16 oz, Liter, Gallon , Pail and Drum – 200 Liters
We Supply Industrial cleaning chemicals and lubricants   for  Business industries in the Philippines such as Manufacturing Companies, Construction Companies , Hotels, Resort, Building and Mall Establishments, Semicons, Shipping, Industrial Services Contractors, and Industrial Companies.
We offer high quality cleaning, degreasing and protecting solutions that remove and reduce the toughest soil such as scale deposit, rust, carbon, acid rain, heavy crude and resin.
Next Lubricant has wide and varied products that are categorized on surface cleaner, mechanical cleaner and electrical cleaner. All of these products have been formulated for industrial cleaning that best matches with different machinery and equipment for your company.