Cold Zinc Galvanizing Compound
Cold Zinc Galvanizing Compound is a zinc rich compound that protects all iron and steel equipment exposed to atmospheric or corrosive conditions. It is an excellent primer for painting since the compound bonds well to the metal. Cold Zinc Galvanizing Compound provides a low cost galvanized coating in maintenance or construction works.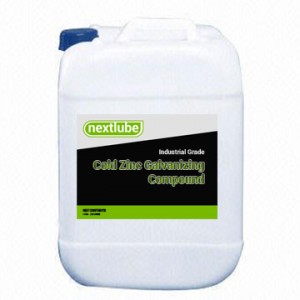 ADVANTAGES:
Cold Zinc Galvanizing Compound incorporates a microscopic zinc particle which binds well with steel or iron.
Cold Zinc Galvanizing Compound provides a coating that is flexible and non-chipping.
Cold Zinc Galvanizing Compound may be used as final protective coating.
Cold Zinc Galvanizing Compound prevents rust and corrosion through galvanic action.
DIRECTION:
As final coating or primer for steel or iron – Apply directly into surface to be treated, then let dry. Repeat application if necessary.
CAUTION:
Use in adequately ventilated area. Avoid prolonged contact with skin and breathing of vapor. In case of eye contact, wash affected eye with plenty of water and calls a physician. Contents under pressure. Do not puncture or incinerate container. Harmful if swallowed.
We Supply Industrial cleaning chemicals and lubricants for Business industries in the Philippines such as Manufacturing Companies, Construction Companies , Hotels, Resort, Building and Mall Establishments, Semicons, Shipping, Industrial Services Contractors, and Industrial Companies.
We offer high quality cleaning, degreasing and protecting solutions that remove and reduce the toughest soil such as scale deposit, rust, carbon, acid rain, heavy crude and resin.
Next Lubricant has wide and varied products that are categorized on surface cleaner, mechanical cleaner and electrical cleaner. All of these products have been formulated for industrial cleaning that best matches with different machinery and equipment for your company.
CONDITIONS ON SALE:
Seller warrants that the product conforms to its chemical description and is reasonably fit for the purpose stated on the product literature when used in accordance with the direction under normal conditions of use. However, as a manufacturer is unable to control its subsequent handling or use, this product is sold on the express condition that neither the manufacturer nor the distributor is under any liability for any loss or damage that may arise through such handling or use.